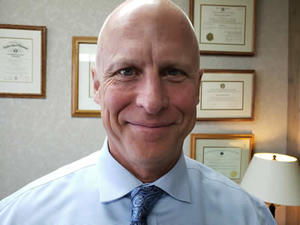 How/why did you choose Psychology as a major? For as long as I can remember, I have been interested in human behavior and its neurologic and psychologic underpinnings. As I began to learn more, I became especially interested in the neurologic and psychologic underpinnings of psychiatric dysfunction and the application of that knowledge base to forensic (legal) issues, both criminal and civil. By the time I entered college, I knew I wanted to major in psychology with the eventual goal of becoming a clinical and forensic psychologist or an attorney. I eventually chose the former.
What specific skills did you develop by taking Psychology courses?
Given the nature of my longer term educational and vocational goals, I pursued a broad based understanding of psychology as a whole, with a particular emphasis on biological, abnormal, and clinical psychology as well as scientific procedures and statistics. In the end, the education I obtained at the University of Illinois ensured that I was well prepared for the rigors of graduate school..
Outside the classroom, what opportunities/experiences were most beneficial?
I completed the Honors Program in Psychology which provided me with significant research experience under faculty supervision as well as the opportunity to author an undergraduate Honors Thesis. I also participated in several other research opportunities with various faculty members and spent the final two summers of my college career working in clinical positions at a local psychiatric facility in order to obtain practical work experience within the field.
Did you believe that you "had to" obtain more schooling after your bachelor's degree?
Yes. The independent practice of clinical and forensic psychology requires a doctorate degree. I knew this going into college and worked quite diligently to ensure that I would gain admission to a doctorate program in those areas of study. I am now board certified in both clinical and forensic psychology by the American Board of Professional Psychology.
In retrospect, what would you have done differently as an undergraduate?
I regret not becoming more proficient in a foreign language during my college career. Perhaps a semester abroad would have helped in that regard. I was simply too focused on other aspects of my education at that time.
If you continued more schooling after your bachelor's degree, share your reasons.
After graduating I accepted a one year research fellowship at the University of Chicago Pritzker School of Medicine and the Illinois State Psychiatric Institute. I was recruited to that position by a former U of I faculty member who taught my abnormal psychology class and also supervised my undergraduate Honors Thesis. I then completed my M.S. and Ph.D. degrees in clinical psychology at the University of Missouri-Columbia. Within that context, I also completed two separate training fellowships, one in clinical child/adolescent psychology and the other in clinical neuropsychology. I then completed my internship in clinical psychology at the Duke University Medical Center.
Describe how you utilize your undergraduate Psychology skills in your current job/career.
My first professional position was at the Duke University Medical Center where I was an assistant professor in their Department of Psychiatry, Division of Medical Psychology. While there, I taught; supervised students, interns, and residents; directed a consultation service; saw patients; conducted research; and served on various committees. After several years in academia, I decided to transition into private practice where I have since founded and currently own two different private practices, one clinical (Lakeview Psychological Associates, S.C) and one forensic (Midwest Consultants in Forensic Psychology, LLC).
What pearls of wisdom can you offer to current undergraduate students?
Approach your goals in an aggressive and realstic manner under the stewardship of knowledgeable faculty members who are willing to mentor you. My biggest opportunities from educational and professional standpoints were made possible by faculty mentors who took a personal interest in me and my career development.