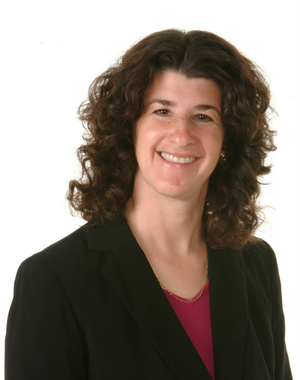 We caught up with writer, instructor, and keynote speaker Alice McGinty to discuss her time at the University, and how her degree in Psychology aided her on her path to accomplish her career goals.
How/why did you choose Psychology as a major? 
I've always been interested in understanding people, in figuring out what makes us tick and what drives us emotionally, so Psychology seemed like a good choice for a major. I wasn't sure where it would lead me. Though I considered the possibility of becoming a psychologist, I didn't have a set career path in mind. However, as you'll see when you read on, my Psychology major turned out to be a great choice for many surprising reasons.
Did you believe that you had to obtain more schooling after finishing your bachelor's degree?
I received two undergraduate degrees, double-majoring in Psychology and Leisure Studies with a Therapeutic Recreation focus. With that second degree I was able to work with special populations in settings such as psychiatric hospitals, a rehabilitation hospital, and a park district special recreation program, so I did not feel the necessity to obtain more schooling. I enjoyed my work as a Therapeutic Recreation Specialist and always felt that my education in Psychology provided a great backbone for the work I did with people in those settings.
 Describe how you utilize your undergraduate Psychology skills in your current job/career.
Along with Psychology, one of my interests has always been writing. As a child, I loved the magic that I felt in reading books like Charlotte's Web, and I dreamed of creating that kind of magic with my own words and imagination. However, I didn't know that I could actually become an author. All of the authors I knew of were either old or dead, so I didn't think I qualified!
In college, I pursued my interests in Psychology and Therapeutic Recreation, which led me to a fulfilling career, but the urge to write never left me. When I found myself across the world in Sweden with some time, I began to write for children, and when I returned to the U.S. a few months later I submitted my work to publishers. That was over thirty years ago. Those stories were rejected, but they were a beginning. I got involved in writer's organizations, attended conferences, joined a critique group, educated myself in the field of children's literature, and continued to write and submit.
About ten years into the journey, I began wondering why some of the books I read, even very simple picture books such as Goodnight Moon, had a certain emotional power. They moved me. I wanted to understand what gave them their power so I could harness it in my own writing. Could my background in Psychology lead me to answers? I dug out some of my old Psychology textbooks and began to read with that question in mind. I remember the excitement I felt as the pieces began to fall into place…as I read Maslow and his hierarchy of needs and realized that Goodnight Moon, with its warmth and repetition, fulfilled a child's need for safety and security. As I read Erikson and his series of psycho-social conflicts, and Fromm and relatedness, I realized that The Tale of Peter Rabbit fulfilled a child's need for independence, and The Runaway Bunny addressed unconditional love. I spent the next several years developing a model showing how seven core psychological needs create emotional power in books. I've used this model to help me in my own writing, and have taught it to other authors, educators, and librarians, often receiving comments from my students that they will never look at books in the same way again.
Now, after many years of perseverance, I've published over 50 books for children, both fiction and nonfiction. When I chose Psychology as a major I had no idea I'd be going down this path as a writer, but my education in Psychology led me to gain exactly what I'd hoped for – understanding what makes us tick and what drives us emotionally – and this has allowed me to reach deeper levels in my writing and teaching.  
Outside the classroom, what opportunities/experiences were most beneficial?
In my second to last year of college, I signed up for a research class in which I was assigned to be an undergraduate assistant for a graduate student's research project. It was the most interesting and valuable experience of all of my Psychology studies. I worked with graduate student Ashley Beitel, who was working on a project with Professor Ross Parke. I helped videotape parents interacting with their preschool children, coded the videos to look at parental styles of interactions, and gathered information from the University preschool regarding the social skills and "popularity" of these students, so that connections might be found between parental styles of interactions and a child's social skills and social standing.
For two years, I was part of each phase of this ongoing research project and I truly loved the experience – being an integral part of a real research team, seeing the research process in action, and realizing how it could help parents and children. Today, I am again working with Ashley Beitel, helping him edit and write a parenting book called Childproofing for Adolescence, based on a model he developed during his many years spent working with teens as a psychologist.
If you could go back and get one meal from a campus establishment, what would you choose?
I don't remember the name of the restaurant, but right across Daniel Street from the Psychology building was a hot dog place, and I used to get their Chicago Dog with the works, which included a pickle relish that was such a bright green it looked radioactive. I'd love to sink my teeth into one of those Chicago Dogs again!
Do you have any hacks, advice, or pearls of wisdom for the current student body?
Get involved! Meet people! Go beyond the classroom experience to take your education and experience to the next level.
And think outside the box. How can you apply your knowledge of psychology to a new field or a new experience? Be creative!