The Department of Psychology honored Carrie Grady,a distinguished alumna, at our awards program on May 12, 2018. She was also the Department of Psychology's Commencement speaker on May 13, 2018.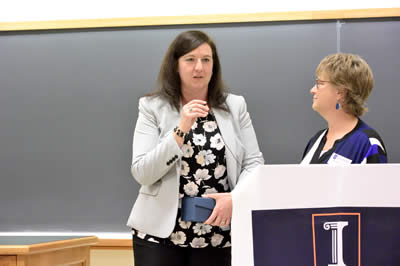 Carrie Grady earned her B.S. degree in Psychology (1999) from the University of Illinois at Urbana-Champaign, and M.Ed. in Counseling (2002) from Loyola University Chicago. Carrie began working with people living with chronic pain, illness and disability as an undergraduate student. She mentored students and created a workshop through the Counseling Center designed to promote greater understanding and awareness of non-obvious disabilities. During graduate school she worked in the Pain Clinic at Rush University in Chicago where she specialized in the psychological treatment of people living with chronic pain.
Carrie began her career in Human Resources at Deloitte. She continued her work with people with disabilities by helping to create Deloitte's Ability First Business Resource Group in 2006. This group is dedicated to the support and education of people with disabilities in the workplace, as well as being focused on community involvement and corporate giving to organizations that support individuals with disabilities in the greater Chicago area. Since her time at the University of Illinois, Carrie has felt a calling to promote greater understanding and awareness of mental health issues and how they affect individuals in school, the workplace, and society more broadly. She is continually working on developing Diversity & Inclusion programs that promote greater understanding and acceptance of people with different abilities.
Carrie is incredibly passionate about giving back and has served on numerous professional boards including the Center for Wrongful Convictions at Northwestern University's School of Law, the Associate Councils of the Anixter and Lekotek Centers of Chicago, and since 2014, the University of Illinois Psychology Alumni Advisory Board where she currently serves as Vice President. She is energized about all of the ways in which that allows her to give back to the students and faculty at the University.